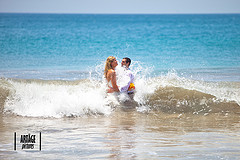 Has your photographer offered you a trash the dress session?  Do you want the fun of seeing you and your wedding gown in all the UN-familiar places?  But you also love your wedding gown.  Can you do both—trash your wedding gown and treasure it forever, too?
Location
If the only unusual views your photographer intends to film are on dry land, don't worry because a Certified Wedding Gown Specialist should have no trouble removing whatever soil you pick up from trailing across a field or beach or through some historic barn or covered bridge.  Or you could protect your bridal gown from grimy surfaces with a PicturePerfect Petticoat.     This bridal petticoat wraps around your wedding gown and safely lifts it off the ground so your wedding gown does not get dirty.
Just because the wedding photographer calls it a trash the dress session does not mean your dress will be ruined.  In fact these sessions are sometimes called Free to Flaunt or Rock the Frock.  For a wedding photographer, it's all about the creative shot, and some really creative ideas take you to dusty or damp places.  But these shots can often be the ones you like best of all.
Emergency Gown Care
If you want to pose with pizza or some other food—no worries.  Here are some tips for emergency care.  And cleaners, especially a cleaner who specializes in bridal gown cleaning, are used to dealing with food, grass, mud, grease, and wine.  However, if your trash-the-dress session includes paint balls, make sure the paint is water based.  Water-based paint can also be removed from your bridal gown—although it is much harder to get silk bridal gowns completely clean than to clean gowns made from artificial fibers such as polyester.  That's because natural fibers are hollow, and anything that stains a silk wedding gown penetrates the fiber and acts like a dye.
Trashing the Dress in Water
The most dangerous environment for your wedding gown is water.  Unless your wedding gown is an artificial fiber such as polyester, be careful about wearing your gown while you swim.  If your wedding gown is made from a natural fiber such as cotton, linen, and silk, it may shrink if you dive into the water—especially if the water is in a hot tub because hot water is much tougher on fabric than cool water.
There's still another water problem if your wedding gown is silk:  it can be almost impossible to remove all the wrinkles from a silk wedding gown that has been in water.  That's why so many brides who take their wedding gowns to the cleaner on the corner end up in tears.  If the cleaner washes your couture silk satin wedding gown, it will look a rumpled bed sheet and not much can be done to fix the mistakes made by a cleaner who has little experience with wedding gown cleaning.  For advice on choosing a wedding gown cleaner, visit http://weddinggownspecialists.com/bridalgowncaretips.htm
Some types of silk do better than others in water.  Silk chiffon, silk organza, and rough silk weaves such as raw silk or shantung can be rescued after a TTD session in water.  A Specialist  can usually bring such gowns back to life again.
Post "Trash the Dress" Gown Care
If you want to trash your dress and treasure it, too, be sure to look first at the care label in your wedding gown before you make the decision to go with trash the dress.  If the fiber content is 100% polyester, go ahead and sky dive, ride a bike, walk through a fountain or do whatever fun thing you like while wearing your wedding gown.  Unless you cut up your wedding gown, tear it up, or set it on  fire, a cleaner who specializes in wedding gown cleaning will have ways to make your wedding gown look almost as good as new.
Note:  Do try to avoid picking up splinters.  It's very time consuming to pick out all those little pieces of wood, and some can be so small they are permanently embedded.
However, if the care label in your wedding gown says 100% silk—or some percentage of silk—don't worry about food, dirt, wine, or grease but do think twice before diving into the water.  And if you do soak your wedding gown, do not try to wring it out or it will really be a wrinkled mess.  Just hang it up to air dry and bring it to a Wedding Gown Specialist as soon as you can so your wedding dress can have a happy ever-after, too.
Photo Courtesy of Artage Pictures
www.ArtagePictures.com and SmartBride Boutique.